Health
CharmHealth vs Practice Mate – The Final Showdown 2022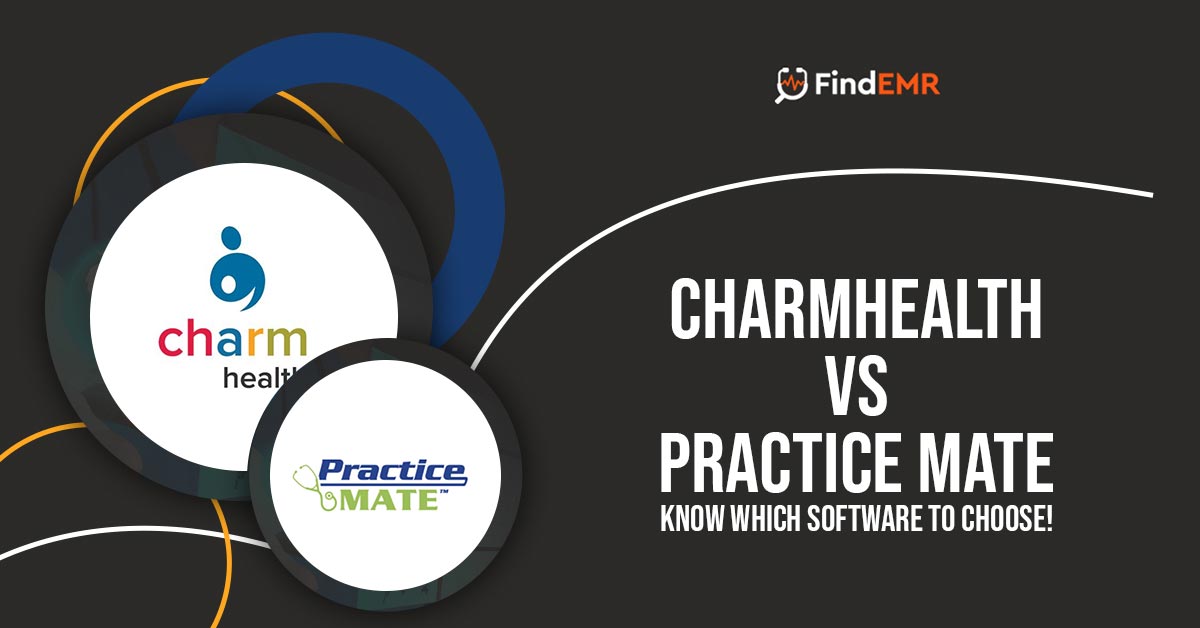 CharmHealth EMR offers a health care suite. It is intended to function as a comprehensive electronic hub for health care providers. A variety of price levels and add-ons, including a free package, enable customers to adapt the service to their own requirements. Its EHR, telehealth, and patient portal allow doctors to maintain patient contact and digitally save and retrieve data. Functionalities like medical billing and RCM enable health care practitioners to spend less time manually managing financial parts of the practice and more time connecting with patients.
Practice Mate in Office Ally is a cloud-based practice management system. Customers may get the EHR option at a reasonable cost. It covers scheduling, invoices, appointment reminders, the development of claims and reports, etc. Clients can use it to electronically submit claims to over 5000 payers, face lower rejections owing to automated claim scrubbing before submission, and check the status of each claim.
Following is a comprehensive comparison of CharmHeatlh vs Practice Mate based on their features and prices.
CharmHealth 
CharmHealth is an MU-certified, cloud-based EHR, Practice Management, and Medical Billing system that enables big multi-specialty groups and small independent medical offices to operate effectively. Consequently, CharmHealth's price is straightforward and distinct and aids practices in budgeting and managing the cost of software procurement.

Key Features

Patient Engagement Tools
CharmHealth EMR integrates a wide variety of patient engagement tools. Patients can monitor personal health and wellness objectives established in collaboration with medical specialists. Share diagnostic information and visit summaries directly with a patient's portal. Patients can read medical material pertinent to their diagnoses or prescribed medications. Patients can use the service to seek medication refills. Once authorized, clinicians may electronically send refill requests to over 70,000 pharmacies.
RCM (Revenue Cycle Management)
The RCM dashboard functions with typical response times and an infographic depicting your practice's claims, collections, receivables, and rejections. Drill-down reports enable the tracking of claims' minute details. Review claims for inaccuracies by the insurer's specified rules. Once claims have been reviewed, transmit them digitally to insurers. Helps monitor claims throughout the process, reduces rejected claims, and accelerates claim response times.

Telehealth
Utilize encrypted audio and video communications to conduct HIPAA-compliant virtual meetings with patients. Comply with HIPAA regulations by interacting through encrypted text messaging with colleagues and patients. Utilize laptops and tablets to access a number of medical apps without the need to download software. Download a smartphone app for mobile entry.
CharmHealth Pricing
The CharmHealth EMR pricing is 3-tiered. There is a free plan for beginners, but it limits encounters to 50 per month. The second option is CharmHealth Flexi which allows users to customize the cost based on their practice size. The monthly minimum is $25. Finally, the Provider Plan is the last option, with a fixed cost of $350. 
CharmHealth Demo
If you are interested in learning how the CharmHealth software can play a vital role in defining your health management practice, you can also schedule the CharmHealth EMR demo.
CharmHealth Reviews
The CharmHealth reviews show that it is easy to use and can be integrated with the system. 
Practice Mate

Office Ally's Practice Mate is a cloud-based medical practice management system designed for small and medium-sized healthcare companies. It may be tailored to the requirements of various specializations and assists users in digitizing the activities required to operate a practice.
Key Features
Patient Transactions 
The Practice Mate lets you establish default procedures and undertake diagnostic coding. It is a vital role in medical practices, especially mental clinics. The scheduling tool is the most user-friendly approach for inputting patient payment information. Additionally, the program promises to manage all billing operations on your behalf to maximize income. You may now concentrate on your core responsibility, which is providing high-quality patient care.

Payment Statement Management 
The program permits instantaneous viewing of patient statements inside the EHR. These are furthermore available for printing. This feature of Office Ally Practice Mate reviews is straightforward for patients to comprehend, which boosts their satisfaction. Additionally, you may include a customized comment before generating payment statements.
Reporting 
In addition, the cost package includes efficient reporting and patient charting. It records the frequency of planned patient visits and your routine collections, allowing you to evaluate performance trends. Expansion of your healthcare practise requires careful monitoring and study of these variables.
Patient Documentation
Practice Mates serves a crucial role in facilitating the maintenance of patient medical records. When enrolling for the patient portal, it is only necessary for the patient to provide their insurance information and medical history once. Immediate data importation into the EHR system reduces your data input workload. Excel may be used to import additional files from a third party.
Practice Mate Pricing 
The Practice Mate pricing information is not provided on the vendor profile, but users can contact the sales team to get a customized quote for their practice. 
Practice Mate Demo
If you want to learn how the features of this software will improve your practice and how you can use it to maximize your efforts by scheduling a Practice Mate demo. 
Practice Mate Reviews
Practice Mate EMR reviews appreciate functions like its ability to upload multiple documents to the system as well as its ability to speed up the process of health care management. 
Final Thoughts 
CharmHealth is a cloud-based service with no upfront fees. The provider offers solutions for electronic health records, practice management, and medical billing. Instead, then charging each provider, they charge depending on the number of interactions created each month. The company's pricing approach makes CharmHealth ideal for startups and practices.
To keep your healthcare practice on track for success, Practice Mate has an efficient practice management system and the most reliable electronic health records. It enables you to do so while reducing your daily burden. In addition, it handles your scheduling and payments so you can concentrate only on your patients.